How To Help Your Child Enjoy Going to Dentist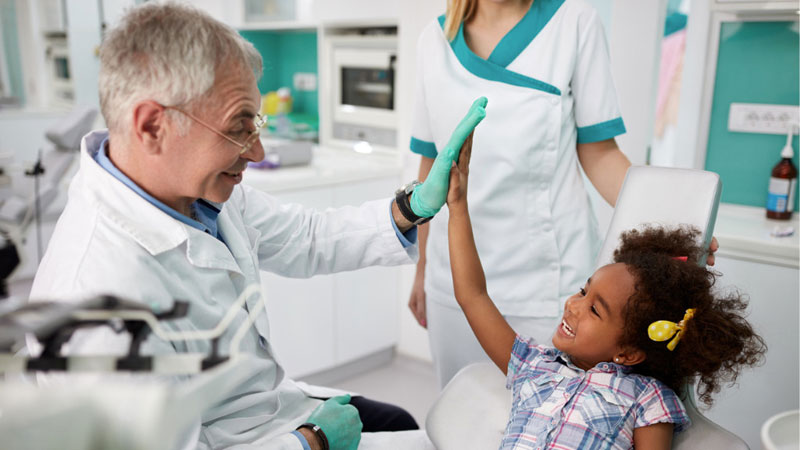 It may be challenging to get your child enthusiastic about going to the dentist, whether they are afraid about visiting for the first time or just worried about seeing the dentist for pediatric dental care. Even if they aren't afraid, they may be uninterested in the procedure. Following are some ideas for getting your youngster enthusiastic about going to the dentist. Going to the dentist may be enjoyable if you follow these expert recommendations.
What Are the Top Tips to Get Your Child Excited About the Dentist?
When we were children, we all remember what it was like to go to the dentist. Even going for a basic cleaning worried some of us. Now that we've gotten older, those of us who have children confront a new challenge: how can we make going to the dentist enjoyable for our kids?
Dr. Eric Yao's clinic has provided family dentistry treatments for many years. As a result, we are well-versed in dealing with tense or fearful youngsters. Set aside your concerns and read on to learn how to ready your youngster for a stress-free dentist visit:
Show Your Kids Some Fun Dentistry Videos
Kids of all ages love YouTube. When your child understands what's happening and what to expect from the procedure, they may become more enthusiastic about going to the dentist. So, one of the greatest methods to pique their interest is to show them some interesting dental movies! Here are a few subjects that can help your youngster learn more about the necessity of visiting the dentist in a fun way. • What creates cavities in the mouth? • The First Visit to the Dentist for a Child • What Is the Purpose of Brushing Our Teeth?
This is only the beginning in terms of possibilities. There are thousands of videos about dentists and dental care for children on the internet. So, you can do some research and watch some entertaining videos with your kids! They'll better understand their teeth and be more enthusiastic about going to the dentist.
Choose A Dentist with A Welcoming Play Area
A fun play area may make a trip to the dentist a lot more enjoyable. As a result, we've created a unique space, particularly for your children, where they can engage in activities such as drawing, watching films on our tablet stations, and playing various games and riddles. At our office, your youngster will undoubtedly have a good time!
While most dentists handle customers of all ages, it's crucial to choose one willing to treat children. While scheduling your child's appointment, you can inquire or observe the office atmosphere on your next visit.
Entertaining toys and activities in the waiting room, as well as a cheerful crew trained to put youngsters at ease, are both positive signs. It's important to remember that having a fantastic office may make a massive difference. So, pick a team that will help your child achieve dental achievement for the rest of their life.
Use Rewards and Positive Reinforcement
You can also reward your kid for going to the dentist regardless of how they behaved, even if they throw a fit. Commend your youngster for having the courage to see the dentist and taking charge of their dental health.
Even if something bad happens, keep a good attitude about it. If you respond negatively, it will make dental appointments more difficult and painful.
You could even want to consider giving them a unique gift. You may, for example, treat them to supper at their favorite place or purchase them a new toy as a reward.
While you should avoid "bribing" your child to get them happy about coming to the dentist, they will be eager if they know there will be something wonderful waiting for them after their visit.
Let Them Be Comfortable During the Trip
Many parents refuse to feed their children before a dental visit. Naturally, we suggest something nutritious and filling. Nothing, however, irritates a kid more than being forced to sit still on an empty belly. Parents need to ensure that the kid has eaten beforehand if you want them to be calm and even-tempered during their visit. You can also get your kids their favorite snacks to get them excited about the visit.
For the dentist, some parents have their kids dress up a little. However, this is usually due to a fear of shame on the part of the parent rather than genuine care for their child. Allow your child to wear an outfit that makes them feel comfortable and calm on the dentist's chair if you want them to stay still for the whole of their visit. You are the only one who is judging your child's attire. So, let them be comfortable before and during the trip.
Why Should You Choose Our Pediatric Dental Care?
The parent is responsible for ensuring that the kid has a pleasant dental experience. You must establish a positive relationship between going to the dentist and something they like from a young age. Therefore, a trip to the dentist may result in them immediately going to their favorite area to play or earning some other form of reward that they will enjoy.
Positive thinking is critical, and you should always speak in a positive tone while discussing going to the dentist. You need to ensure you don't frighten them, increasing their anxieties or hesitancy.
Your kid will be able to overcome their fear of visiting the dentist if they have a sympathetic and supportive pediatric dentist. Excellent children's dentists will be educated and skilled in dentistry related to children's dental needs. They will also be excellent at knowing just what to say and do to put your kid at ease. This is where we come in.
Our staff is well-versed in the art of carefully handling kids without frightening them. Moreover, we offer a welcoming ambiance for the little ones and ensure that their trip is pleasant. We understand how to help kids enjoy their trip to the dentist and are willing to help out parents as well.
Please login to publish a comment.
Comments (0)