Benefits of Dental Laser Therapy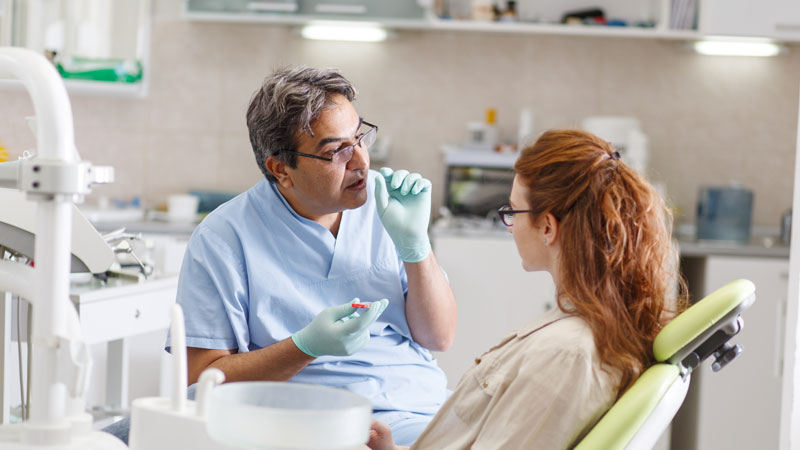 Laser dentistry refers to using lasers to treat many different types of dental issues. In 1989, it became commercially popular in professional dentistry management for tooth tissue treatments. When opposed to drilling and other non-laser instruments, laser dentistry may provide a more pleasant medical alternative for various dental treatments requiring hard or soft tissues.
LASER devices create light energy in an extremely narrow and concentrated beam. When laser light strikes tissue, it causes a response that allows the tissue to be removed or shaped. Therefore, we recommend laser dental therapies to our clients instead of conventional options. So, what are the top-notch benefits of dental laser therapy compared to conventional options?
What Are the Topmost Benefits of Laser Dentistry?
When improving the look of your gums, laser dentistry is the most efficient and accurate method available. Our laser dentistry techniques produce the most pleasing results while also allowing for a short recovery time.
We can help you if you are unhappy with your gums or want to address dental issues. Our methods are risk-free, dependable, and painless during and after the operation. These lasers are highly adept at accurately cutting through the enamel, making them an excellent choice for carefully removing teeth and bones.
Everything from contouring a molar before a dental implant to cutting away asymmetrical dentition to fixing outdated dental restorations falls under this category.
Here are the top benefits of dental laser therapy.
Reduced Dental Pain
Many dental treatments that used to be unpleasant have become painless. This is due to laser dental treatments. Laser dentistry is relaxing for patients of various backgrounds and pain threshold levels. There is no need to utilize noisy, vibrating grinders that inflict discomfort.
Laser dentistry is so mild that almost all patients don't need any anesthesia. The discomfort is reduced, allowing for a quicker recovery. Additionally, using this method, the risks of problems during therapy are significantly decreased.
Minimal Bleeding
Laser dentistry makes use of highly focused laser sources to administer treatments and even execute oral operations. If lasers were not employed, bleeding would undoubtedly be a problem. These laser beams help to keep bleeding to a minimum and reduce edema after surgery.
Back in the day, dentists and patients had to face severe bleeding issues. The physical cutters, grinders, and drills constantly came in contact with soft tissues and resulted in bleeding. Similarly, continual contact also resulted in swelling after the procedure.
Lasers don't have to interact with the teeth directly. Instead, dentists use concentrated beams of light to address dental issues. Therefore, we can keep bleeding and swelling to a minimum.
Decrease in Dental Anxiety
Ask anybody who has a dread of seeing the dentist about the benefits of laser dentistry. You'll be showered with compliments on this innovation. According to many who have tried it, laser dentistry generates minimal, if any, discomfort.
Consequently, people aren't as scared as they would be if they were going to the dentist for a conventional procedure. This has dramatically decreased dental anxiety, and people are more relaxed when they visit dental offices now.
Elimination of Infections and Instant Cauterization
Laser beams are highly regarded in the dentistry world, in particular, because they aid in disinfecting the area they come into contact with during the process. This sterilizing procedure minimizes the risk of problems, the transmission of germs, and the risk of infection.
Inflammation at the implant site and associated incisions might cause some soreness following a tooth extraction. When dentists use a periodontal laser to cauterize the tissue at your treated area, practitioners can reduce the amount of discomfort you notice during recuperation.
Non-Invasive Surgery
Another advantage of laser dentistry is that it is non-invasive. Therefore, the patients will not have to deal with physical tools that might cause discomfort, bleeding, or issues. Similarly, the lack of invasive processes allows better control over the situation and a smoother recovery process.
Cosmetic Recontouring
Do you have a "gummy" grin or gum lines that are uneven? Laser dental technology makes it simple to get uniformly formed teeth. Orthodontic recontouring used to include costly surgical procedures, medicinal bandages, and a two-week recuperation period.
Dentists can use laser technology nowadays to delicately sculpt and rebuild a new gum line rather than using a blade to alter your gums. On the same day, patients may see rapid improvements, including healthier teeth and improved looks.
Why Is Dental Laser Therapy Better than Conventional Methods?
With the advancement in high-powered and contained lasers, more and more dental practitioners are investing heavily into opting for laser surgeries. These surgeries are extremely painless as there are no physical tools involved in the actual process.
Our patients feel a slight burning or warm sensation in their mouths. However, apart from that, they do not feel anything. If they do, we are doing something wrong.
We use laser surgeries for scaling, grinding, and removing tartar and plaque from the teeth. Similarly, we also use these laser surgical options for teeth whitening. Since there is no horrible and loud grinding tool involved, the patients feel safer with this option.
Why Should You Trust Our Dental Laser Options?
The mouth and gums are among the most sensitive parts of the body. Remember that the dentistry industry evolved from fixing teeth with hammers to performing complex anesthetic dental surgeries. Even though modern dentistry practices are quite painless, patients still fear the tools and the dentists.
This is where laser dental therapies jump in to save the day with painless options. Nowadays, lasers can fix almost everything, including your teeth, gums, and crown implants. So, dentists don't have to use age-old grinders, scalpels, or cutters to sharpen your teeth. Instead, they use highly-concentrated beams of lasers to handle your dental issues.
If you decide to go with our laser dental services, we can offer a painless laser alternative for all your issues. You can contact us or view online testimonials from our previous clients. They all seem to sing the same song in our praise and commend our painless dentistry approaches. We can offer a free consultation as well for any dental procedures.
Please login to publish a comment.
Comments (0)