I have been practicing dentistry for more than 20 years. I have been with my current practice in Shoreline since 2003. I grew up in Seattle and spent more than half of my life living in Shoreline. It is my honor to serve the community of Shoreline, the community in which I live and raise my family!
It is always my goal to treat all my patients like my own family. I am determined to create a friendly and welcoming environment that is committed to providing the highest caliber of dental care to all my patients.
I love practicing dentistry because it offers me an opportunity to be an artist, engineer, and problem solver. I am able to meet new challenges each day and figure out the best possible solution for my patients.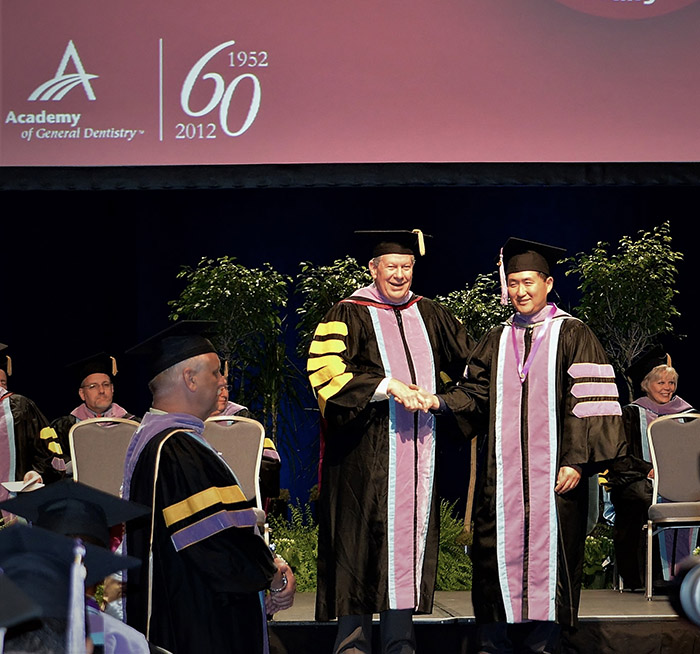 I believe continuing education is essential to staying current and on the cutting edge of dentistry. We owe it to our patients to provide them the best care possible, and it is through continuing education that I am able to offer patients my best. I also enjoy going to dental conventions, so that I can always look for the latest technologies and most effective ways to treat my patients. In 2012, I took more than 1,100 hours of advanced educational courses and passed a rigorous test to earn Mastership in the Academy of General Dentistry (MAGD award). It is an honor achieved by less than one percent of general dentists. I have to say that it was a wonderful learning journey.
What I love most about dentistry, though, are the relationships I've developed with my patients. I enjoy coming to the office every day, chatting with patients as friends, and solving problems for them. Seeing them out of pain and smiling is the best reward for my job. It's especially satisfying when I see all my Six Month Smiles orthodontic patients smile beautifully and confidently after completing their orthodontic treatment!
I currently teach at the University of Washington Dental School on Fridays as an affiliate professor when I am not working at the office. I enjoy giving back to my school, and teaching and mentoring the next generation of dentists. I also love to give back to our community through our many office events throughout the year. Over the years, we have done fundraising for Horse Rescue, food drive for Food Lifeline, and toy drives for Shoreline Fire Department. I also really enjoy going to different elementary schools to talk about dental health with kids. They always came up with the most creative questions for me.
The entire staff at our office shares the same vision: treating our patients like our own family. This makes my job much easier. My entire staff is friendly, experienced, knowledgeable, professional, and fun. They don't mind making silly and entertaining birthday and holiday videos for patients. Our meetings are usually effective and full of laughter. I feel grateful to have this amazing team!
I have three boys who are heavily involved in basketball. I have coached my boys' youth basketball teams through the years, and have really enjoyed it. Through the years, I have also made free sports mouthguards for youth basketball teams and Tae Kwon Do schools. During our spare time, we enjoy traveling, outdoor activities, movies, golf, basketball, and cheering on all the Seattle sports teams!
Education
Bachelor of Science in psychology – University of Washington, 1994
Bachelor of Art in zoology – University of Washington, 1994
Doctorate of Dental Surgery – University of Washington School of Dentistry, 1998
Continuing Education
Mastership, Washington Academy of General Dentistry (MAGD)
Academy of General Dentistry, fellow
American Dental Implant Association, fellow
World Clinical Laser Institute, fellow
Professional Memberships
American Dental Association
Academy of General Dentistry
Washington State Dental Association
Seattle-King County Dental Society
American Dental Implant Association
World Clinical Laser Institute